05 Aug 2008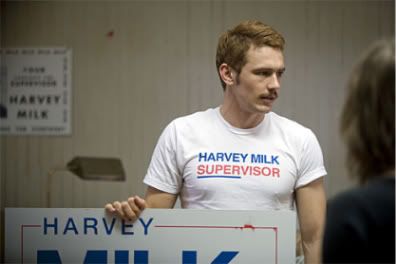 James Franco and Sean Penn star in Gus Van Sant's upcoming biopic Milk, based on the life and times of the self-appointed "Mayor of Castro Street," Harvey Milk. Penn plays Milk, and Franco plays his honey Scott Smith.
Filming certain scenes was slightly awkward for Franco.
"We're sitting on the curb, kissing and it's not stopping. A minute doesn't sound like a long time, but, in front of 200 people, it's a long time.

"Afterwards, we were like, 'All right, how are those Raiders?'"
Sadly for Oakland fans, the answer to that question is "crappy," but good for James for taking this role. In fact, good for both stars. This is a story that deserves to be told, and they're both so talented, I'm sure they'll do it incredible justice.
Catch this much-buzzed flick in theaters starting December 5th… just in time to be considered for an Oscar?!
Photo Source: USA Today
DROP A COMMENT BELOW